EMJAY® IMPACT SOCKETS
The new IMPACT SOCKET from Emjay® is designed to accommodate the needs of users of impact sprinklers placed on top of standpipes or risers.
This socket is currently available in 1/2″ and 3/4″ BSP.
It is an interrupted socket which is designed with a thicker than normal "landing area" between the two tapered threads to ensure that the impact sprinkler's rotating seals do not touch the top of the riser.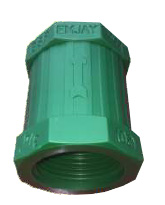 The riser side of the Impact Socket is shorter than the impact side to allow for thread length difference between various manufacturers of impact sprinklers.
The interrupted thread ensures that the riser and sprinkler do not touch and prevent the sprinkler from rotating, even if the riser is over-tightened. The landing area between the threads will prohibit this from happening.
The EMJAY® Impact Socket is made from high grade engineering polypropylene and has added UV stabilisers to counteract the effect of the sun's harmful UV rays..
---
EMJAY® POLY THREADED FITTINGS
EMJAY® POLY THREADED FITTINGS
The Emjay® Poly Threaded Fittings range is the latest development by Microjet Irrigation Systems. It was launched in South Africa In October 2008 and globally in 2009. The range of fittings was developed specifically for our overseas market and has been made to much higher quality than any other comparable product on the market in South Africa. These fittings are made from Black Virgin Polypropylene (for maximum UV protection) to very precise specifications which conform strictly to international BSP thread specifications.

They are non-hydroscopic, meaning that they don't absorb moisture and are highly resistant to chemicals and fertilizers. The threads are all full form threads which have been cut by computer controlled machines to a standard taper of 2° across the range to ensure maximum seal at high pressure.
These fittings have all been tested up to 1600kPa (235psi) without damage or leaks.
It is recommended that a good quality thread seal tape (PTFE tape) is always used when installing Emjay® Poly Threaded Fittings.

The Emjay® Poly Threaded Fittings are easily identifiable by the bold name and size (both Imperial and with the metric equivalent) engraved on each part as well as the recycle mark clearly engraved for easy recycling. They have a robust octagonal nut section for easy tightening by hand or spanner.
The full range of Bushes, Nipples, Male and Female Plugs, Male and Female Tees and Elbows, Male to Female Elbows and Sockets is available in all standard sizes from 1/2″ (15mm) to 2″ (50mm).
---
EMJAY® MANIFOLD SYSTEM
The Emjay® Manifold is a strong, versatile and easy to use system for irrigation valves.
It can be used in manual or automatic systems with either manual or electric solenoid valves.
The unique clip-together system is easy to use, extendable and needs no tools.
This versatile system has a large range of fittings which allow for numerous configurations and setups.
It is robust and durable having been extensively tested at 16Bar with over 30,000 test cycles completed
Rated at a maximum operating pressure of 14Bar.
How Does it Work?
Emjay® Manifold Fittings are assembled by simply inserting the coupling between two fittings, pressing the fittings together and sliding the locking clips over the ends. Each join requires two clips and a coupling, except the inlet and endcap which have built in couplings.
Emjay® Manifold Union Fittings have a special BSP / ACME Nipple for attaching electric valves. The BSP side is screwed tightly against the o'ring which seals against the edge of the valve. The ACME side is tightened against the manifold body which seals against manifold body o'ring.


By using Crosses, Tees, Elbows, Endcaps and Inlets, numerous different configurations of valves are possible.
From 2 stations to 20 or more.


The Emjay® Manifold can be installed under ground in a valve box, using the standard locking clips or it can be mounted on the wall using the specially designed wall mount clips. The Wall Mount Clips have pre-drilled mounting holes and are designed to keep the manifold far enough away from the wall to allow access to the nut to connect the valves while in place. It is, however, recommended that the manifold is first mounted onto a board or similar rigid material to ensure that it is mounted flat.